With warmer weather still a while away, there has never been a better time to bunker down and get comfy on the couch.
Luckily for you, there are plenty of new shows to help refresh your 'what to watch' schedule. A mix of old, new, funny and true; our list for August is guaranteed to offer something for everyone.
Let us know what you think in the comments, and don't forget to tell us what you're watching.
Find out the next TV, streaming series and movies to add to your must-sees. Get The Watchlist delivered every Thursday.
Netflix
Our top recommendation on Netflix is Money Heist: Korea – Joint Economic Area, which gets ★★★★.
Based on the hit Spanish series Money Heist and set in the near future, it stars Jeon Jong-seo as a young North Korean woman who moves south for some of the glittering opportunities promised by the two Koreas' economic reintegration. What she finds instead is exploitation and brutality and, after carving out her own bloody path, she's recruited by the Professor (Yoo Ji-tae), who's putting together a colourful, if slightly volatile, team for a very special heist. It's going to involve a raid on a big and gleaming new currency mint, and while it's no spoiler to say that things don't go exactly to plan, at times it seems that the wily Professor has indeed planned for almost every conceivable contingency. With drama driven by well-drawn characters gradually revealed, it quickly becomes addictive. Brad Newsome
If you liked The Sandman comics … the TV series follows the adventures of Dream (Tom Sturridge), aka Morpheus, who is a member of the Endless. The Endless are powerful beings who are even older and greater than the gods. Having been kept captive since World War I, Dream faces a set of unique challenges when he escapes his prison and enters the modern world. Based on Neil Gaiman's immensely popular comic. From August 5.
If you need something heartwarming … Special is the Emmy-nominated series from actor and comedian Ryan O'Connell, who has cerebral palsy. This 2019 comedy series, based on his own memoir, is cheerfully silly in parts but also sharply written, touching and very funny. It begins with the 28-year-old virgin Ryan (O'Connell) landing an internship at a clickbait website and letting people think that he limps because he was hit by a car. A bullish co-worker (Punam Patel) resolves to help him start really living. Jessica Hecht is fun too. Brad Newsome
If you've ever been dateless at a wedding …Wedding Season offers a creative way to avoid flying solo. As wedding season approaches Asha (Australian actor Pallavi Sharda) faces family pressure to find a partner. Teaming up with friend Ravi (Suraj Sharma), she soon learns that everything she's looking for has been right in front of her the whole time. From August 4.
Binge
Our top recommendation on Binge is The Rehearsal, which gets ★★★★★.
Nathan Fielder showcased his knack for the profoundly absurd in the cult Comedy Central series Nathan For You (2013-2017, Paramount+). A clever spoof of reality TV's save-your-business genre, the show had Fielder challenging business owners to a farcical game of "just trust me" logic. He's often grouped in with "cringe comics" such as Sacha Baron Cohen and Eric Andre, but his new HBO series takes Fielder's shtick to a grander level. What if, before undertaking a major life decision (say, having kids), you could act out its potential outcomes first? The first episode focuses on Kor, a 50-year-old teacher, who has been living a lie: over a decade ago he told his pub trivia team he had a master's degree when, in fact, he only has a bachelor's degree. He fears when he comes clean, the team will disown him. Fielder concocts an elaborate simulation to prepare Kor for his fate – including constructing an exact, full-size, working replica of the pub where it will all go down. It takes a mad genius to concoct such preposterous shenanigans and leave you laughing uncomfortably at the results. Robert Moran
If you love a twisted British thriller … four-part series Our House wastes no time cutting to the chase. It opens with Fi Lawson (Tuppence Middleton), walking down a tree-lined street in London and moving aside for some removalists unloading furniture – only for them to walk through her front gate. While she was out of town for a couple of nights, Fi's house, where she has lived with her husband Bram (Line of Duty's Martin Compston) for 10 years, has been emptied of all its furniture and fittings, and a new couple is moving in. Kylie Northover
If you were obsessed with Game of Thrones … the wait for the much-anticipated prequel is almost over. House of the Dragon starts on August 22 and takes place 300 years before the events of Game of Thrones. The 10-episode series will throw us deep into the warring factions of the House Targaryen and reveal how the Mother of Dragons earned her name and eventual place on the throne. Matt Smith leads an all-star cast that includes, Olivia Cooke, Emma D'Arcy, Fabien Frankel, Rhys Ifans, Steve Toussaint, and Australians Ryan Corr and Milly Alcock.
If you're a Taika Waititi fan … then settle in for a second serving of Reservation Dogs, the comedy that throws you deep into the world of four Indigenous teenagers in rural Oklahoma. As co-creator and executive producer, Waititi's trademark offbeat humour remains infused throughout this glorious second season. From August 4.
Stan*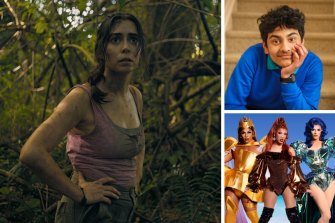 Our top recommendation on Stan is The Resort, which gets ★★★★.
If you love Cristin Milioti, that's reason alone to watch, but she's joined by a cracker cast in this slightly bonkers black comedy. Milioti plays Emma, who is celebrating her 10th wedding anniversary with her husband Noah (The Good Place's William Jackson Harper) at a resort in Mexico. She's feeling jaded and stuck in marriage and life, but when she stumbles on an old mobile phone in the jungle, the pair embark on a wacky detective story. The phone belonged to Sam (Skylar Gisondo) a teenager who went missing from a nearby resort 15 years earlier, and whose body was never found. What starts out as an amateur detective story soon turns into something more, with a surprisingly poignant subplot. Kylie Northover
If you're a sucker for espionage thrillers …The Undeclared War sits neatly in that genre. However, it sets itself apart with riveting contemporary relevance as it examines the whole suite of offensive cyber capabilities available to an extremely hostile Russia. Hannah Khalique-Brown plays Saara Parvin, a brilliant computer-science student taking a year away from university for a work placement with GCHQ, the British government's top signals-intelligence and information-security outfit. On her very first day on the job, a Russian cyberattack takes out half of Britain's internet connections, disrupting banks, airlines, health services and more. Brad Newsome
If you love Kiwi comedy … There's a lot of heart, honesty and gentle humour in Raised By Refugees, an endearing autobiographical comedy series created by Pax Assadi. The central figure is the 12-year-old Pax (impressive newcomer Kenus Binu), but the real soul and funnybone of the series are the grown-up Assadi, playing his own Iranian father, Afnan, and Kalyani Nagarajan as Assadi's Pakistani mother, Safia. It's September 2001 and young Pax has just started at a new school. That's awkward for any kid, never mind what's inevitably in store for kids of a Middle Eastern background once September 11 comes around. Brad Newsome
If you're ready to channel your inner Drag Queen … RuPaul's Drag Race Down Under returns for a fabulous second season. Judged by the legendary RuPaul, regular judge Michelle Visage and Australian comedian Rhys Nicholson, this season welcomes a new batch of outrageously fierce and fabulous queens from Australia and New Zealand all vying to snatch the crown for the next Down Under Drag Race Superstar.
Amazon Prime Video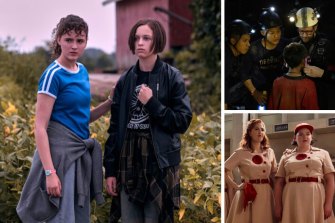 Our top recommendation on Amazon Prime Video is Paper Girls, which gets ★★★★.
It's 1988, and a group of 12-year-old newspaper-delivery girls in Cleveland, Ohio, is about to find themselves dragged into a deadly civil war of the future. The character drama is poignant and involving, and the terrific young ensemble has the measure of the intelligent material. Ali Wong brings surprising pathos in a role that's almost the diametric opposite of her stand-up comedy persona. The storyline and '80s setting may invite comparisons to Stranger Things, but it's worth noting that the Paper Girls comic books came out in 2015, before that Netflix show was even a thing. Brad Newsome
If you want a miraculous true story …Thirteen Lives is a dramatic retelling of the global effort to save 12 young soccer players and their coach, who were trapped by rising floodwaters deep in Thailand's Tham Luang cave system. The film, which was directed by Ron Howard (Apollo 13, A Beautiful Mind, Frost/Nixon), stars Viggo Mortensen, Colin Farrell and Australia's Joel Edgerton. From August 5.
If you adored the 1992 movie A League of Their Own … this remake is a home run. Sadly, there's no Madonna or Geena Davis, but the cast breathes new life into the familiar story of a group of women who join an all-female baseball league during World War II. The new series was co-created by Broad City's Abbi Jacobson, who also wrote several episodes and stars as Carson Shaw. Also in its favour is the involvement of director Jamie Babbit, who has worked on numerous hit shows including Only Murders in the Building, Girls, The Marvelous Mrs. Maisel, Gilmore Girls, United States of Tara and Russian Doll. From August 12.
If you like your criminals to be community-minded …The Outlaws returns for a second season, with all seven 'criminals' still completing their community service. Season one ended with Ben (Gamba Cole) being charged with murder after a fatal showdown. The new season picks up in the aftermath, with the Outlaws fighting to prove Ben's innocence. From August 5.
Apple TV +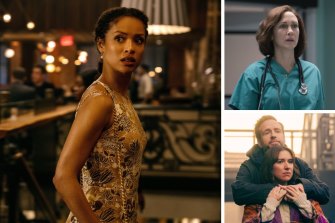 Our top recommendation on Apple TV + is Surface, which gets ★★★.
Memory loss is proving popular on TV right now, thanks to shows such as Shining Girls and The Last Days of Ptolemy Grey (both also on Apple). Surface takes the idea a step further, introducing us to Sophie (Gugu Mbatha-Raw), who's beginning to suffer extreme memory loss due to a traumatic head injury. Sophie attempts to put her life back together with the help of her husband, James (Oliver Jackson-Cohen), but it soon becomes clear that she can't trust those closest to her – nor can she trust herself. The more she begins to interrogate her actions and piece together the circumstances leading up to her injury, the more Sophie realises that her life may be in danger.
If you want an eye-opening real drama … Five Days at Memorial chronicles the impact of Hurricane Katrina and its aftermath on a New Orleans hospital. As floodwaters wreaked havoc on the health system, hospital employees were forced to make decisions that would haunt them for years to come. Vera Farmiga stars in the series, which is based on a book by Pulitzer Prize-winning journalist Sheri Fink. From August 12.
If you need a few laughs (and a few tears) … comedy Trying returns for a third season. After several misfires, Nikki (Esther Smith) and Jason (Rafe Spall) have managed to adopt and are proud parents to two children. But it's a case of be careful what you wish for: they soon learn that parenting is not exactly a walk in the park, although it does involve a lot of walking in parks.
Disney +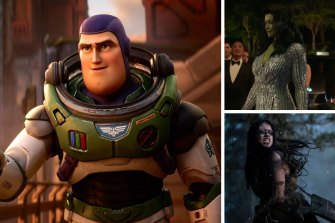 Our top recommendation on Disney + is Lightyear, which gets ★★½.
Directed by Angus MacLane (Finding Dory), Lightyear is the origin story of the "real" Buzz. It's nominally the same movie that Andy, the kid in Toy Story, was watching in the 1990s; although this raises various questions, so it's best not to overthink. The irony is that despite the character's commitment to exploring the cosmos, this proves to be a film all about getting trapped in one place. Now voiced by Chris Evans rather than Tim Allen, Buzz is part of a small community stuck on a planet far from Earth. Like the Toy Story gang in each of their adventures, he's dedicated to finding a way home via a series of trial flights where he strives and fails to reach "hyper-speed". When he returns from each attempt, years have gone by on the ground, although for him, it's only been minutes. Jake Wilson
If you like superhero shows and legal dramas … She-Hulk: Attorney At Law might be the only series to tick both those boxes. The latest Marvel offering spans nine episodes and tells the story of Jennifer Walters (Tatiana Maslany), an attorney specialising in superhuman-oriented legal cases. When she's not in the courtroom, Jennifer must deal with her double life as a green super-powered hulk. Keep an eye out for MCU favourites, including Mark Ruffalo as Smart Hulk, Tim Roth as Emil Blonsky/the Abomination and Benedict Wong as Wong. From August 17.
If you've been a long-time Predator fan … Prey is the fifth film in the franchise and acts as a prequel to the 1987 film starring Arnold Schwarzenegger. The movie takes us back 300 years to the Comanche Nation as Naru (Amber Midthunder), a fierce and highly skilled warrior, sets out to protect her people against the original Predator.
Paramount +
Our top recommendation on Paramount + is Couples Therapy Australia, which gets ★★★★.
It may sound tawdry and exhibitionistic, but this is powerfully compelling television that follows three couples who begin counselling with Sydney psychotherapist Marryam Chehelnabi. Busy parents Polly and Stef have been together for 12 years, but Polly is at her wits' end because Stef refuses to discipline their son. Cat and Doug have twin daughters but their relationship is overshadowed by Cat's unresolved grief for her previous husband, who died in an accident just a few weeks after they were married. Brendan and Scott are engaged, but Scott is deeply concerned about his fiance's heavy drinking. There's some heavy stuff here, and it's all treated with great respect as the empathetic Chehelnabi helps her clients examine various aspects of their relationships and the ways in which they communicate. It's also interesting sitting in on Chehelnabi's sessions with her own supervisor and hearing how the work affects her. As the episodes pass and Chehelnabi's clients sometimes make startling progress, it all feels increasingly profound. Brad Newsome
If Owen Wilson is your ideal leading man … then you're in for a treat with Secret Headquarters. Wilson is at his most charming in this movie that's fun for the whole family. The story revolves around Charlie (Walker Scobell), who begins to suspect his father might be a superhero after discovering a secret headquarters in their basement.
If you've ever bought a set of steak knives off TV … then I Love That For You will hit home. Inspired by true events, this heartwarming comedy stars comedian Vanessa Bayer as Joanna Gold, a young woman who overcomes leukemia and decides to use her new lease on life to follow her dream of becoming a home shopping channel host.
SBS on Demand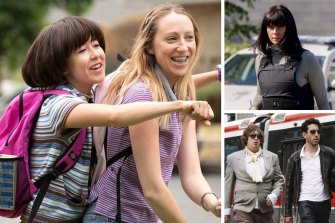 Our top recommendation on SBS on Demand is PEN15, which gets ★★★★★.
PEN15 hurts to watch and that is a good thing. Thirty-something actors Maya Erskine and Anna Konkle are utterly convincing as 13-year-old best friends who consider each other rainbow gel pens in a "sea of blue and black writing utensils". The uncool friends battle all the nonsense high school has to offer, treating the big (parents separating) and small issues (bad haircuts) with the right levels of teenage drama. TV shows don't often get this right, but PEN15 is gorgeous, funny and devastating in all the right ways. Over two very funny seasons, the protective shell of childhood is cracked open as they try to be the grown-ups they so desperately want to be, but discover it's not always better on the other side. I cried in the final episode because I didn't want to let Anna and Maya go. Louise Rugendyke
If you like your murder mysteries with a hint of Nordic flare …Helsinki Crimes is the perfect winter drama to get lost in. Based on Matti Yrjänä Joensuu's bestselling novels, the Finnish drama shadows Detective Timo Harjunpää (Olli Rahkonen) and his partner Onerva Nykanen (Olga Temonen) as they deal with a series of vicious homicides in Helsinki.
If you want madcap comedy with a pop culture twist … Nirvanna The Band the Show runs on an irrelevant set-up: Matt Johnson and Jay McCarrol dream of getting their band booked at Toronto performance space The Rivoli. Like a Wile E. Coyote gag, the series is based around the duo's mission to achieve that goal. Each episode is meticulously framed around some bizarre micro-reference: Mrs Doubtfire, N64's GoldenEye, the reality series Wahlburgers. The nod might be absurdly ironic, but the dedication to honouring its source is fantastically sincere. Robert Moran
If you're not afraid of a little ink … Inked is a moving Mandarin drama set in New Zealand that tells the story of one young woman's determination to follow her passions, despite her family's wishes. Jiayue (Lisa Zhang) moves from China to Aotearoa intending to finish the medical degree her father wants her to pursue. Instead, she follows her dream of being a professional tattooist.
ABC iview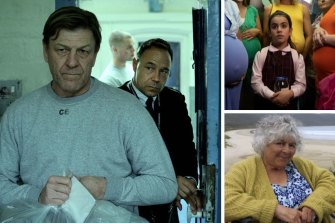 Our top recommendation on ABC is Time, which gets ★★★★½.
This is a masterful British prison drama, with deeply felt performances by Sean Bean and Stephen Graham as inmate and guard, respectively. If you enjoy social-realist dramas that focus directly on systematic failures and personal struggle, or want to see two fine actors at the top of their craft, then Time will scratch that particular itch. The three-part series was created by Jimmy McGovern (Cracker, Hillsborough, The Street). He's one of the most important British television writers of the last 30 years and Time is another impressive piece of work from the veteran. A second season has been commissioned. Craig Mathieson
If you're craving a diverse Australian story with heart … Here Out West is a testament to the power of the collective, with eight writers, five directors, three producers and three executive producers working on the film. When a baby is kidnapped from a hospital by a desperate grandmother, it sets off a chain of events that bring together complete strangers over the course of one dramatic day.
If you want to see the real Australia … Australia Unmasked is a new three-part series in which legendary actor Miriam Margolyes spends eight weeks driving across the bottom of Australia. In her 2020 series Almost Australian, Margolyes travelled the country to learn what it meant to be Australian. Her mission this time is to uncover the notion of "the fair go" and how it plays out in the lives of Australia's many citizens. Kylie Northover
If you love a good old-fashioned spy caper … The Game has all the bells and whistles we've come to expect from the genre. Succession star Brian Cox plays 'Daddy', the charismatic but paranoid head of MI5 who must move promptly to shut down a devastating Soviet plot.
Other free streamers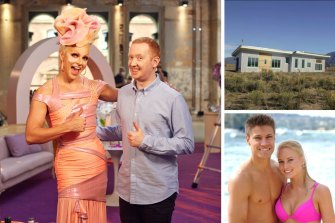 Our top recommendation on 10Play is Pilot Showcase, which gets ★★★ ½.
Welcome to the long-standing TV tradition of producing a test episode to gauge its suitability for a full series. You can get an advance look at what does – and doesn't work – as Ten puts up six new pilots. Influencer Abbie Chatfield seeks to debunk myths around misunderstood minorities and industries (asexuals and porn stars are first up) on Abbie Chats, while Courtney Act hosts Courtney's Closet, an action-packed makeover show that turns everyday Australians into the drag star of their dreams.
Loading
If you're impressed by audacious feats of engineering … Building Off The Grid on 9Now proves that location is no barrier when building your dream home. Fearless adventurers set out to see who can construct the most creative home in a remote area. From Montana to the North Pole, from yurts to log cabins, Building Off The Grid is one show that lives up to its name.
If you can't resist temptation … then why not book a stay at Temptation Island? This guilty-pleasure dating show on 7Plus has four couples whisked away to Temptation Island to see if their relationship is meant to be.
* Nine is the owner of Stan, 9Now and this masthead.
Find out the next TV, streaming series and movies to add to your must-sees. Get The Watchlist delivered every Thursday.