I can't pay, I won't pay is the message of the day at the ongoing COP27 summit in Sharm el-Sheikh, Egypt.
On the day that COP27 is dedicated to discussing climate finance issues, it has finally dawned on Africa that there is a price to pay for being poor.
Activists from Africa, Asia and Europe staged a protest demanding that rich countries pay for their contribution to climate change. It is the culmination of years of broken promises and non-commitment by developed nations.
"What do we want? Climate justice! When do we want it? Now! Now!" chanted angry protesters who had camped out at the main entrance to the convention center with banners and signs.
"We are not here to arouse your pity, express our grief or appeal to your sympathy. We demand justice and redress," shouted their leader who was supported by activists from countries suffering the adverse effects of climate change.
The protests took place during a COP which has been dubbed the "African COP" because the conference is expected to deliver substantial progress and achievable climate action on priority issues for Africa and the world. other developing countries.
As it stands, that's unlikely to happen.
Prior to COP27, Ephraim Mwepya Shitima of Zambia, the current Chair of the African Group of Climate Change Negotiators, defined some of Africa's priorities as follows: recognition of Africa's special needs and circumstances, improving loss and damage financing and coordination of financing will be led by the United Nations Conference of the Parties on Climate Change (UNFCCC) and will provide robust financing for climate action.
Paris Agreement
Demands for climate finance from poor and developing countries to help them address and deal with the effects of climate change seem to be falling on deaf ears.
According to Article 9 of the Paris Agreement, developed country Parties must provide financial resources to assist developing countries with mitigation and adaptation.
Unfortunately, little progress has been made in meeting the commitments made in 2009 at COP15 in Copenhagen, Denmark, where rich countries pledged to contribute 12 trillion shillings ($100 billion ) per year to poor countries by 2020. The money was intended to help these countries adapt to climate change and mitigate activities that contribute to rising temperatures.
These promises have not been kept.
To make matters worse, those who negotiated the pledges at COP15 never agreed on several things that complicated the issue of climate finance. They disagreed on how the pledges would be counted, on what "climate" activities are defined and which interventions count towards the 12 trillion shillings pledge and which countries are covered by the pledge.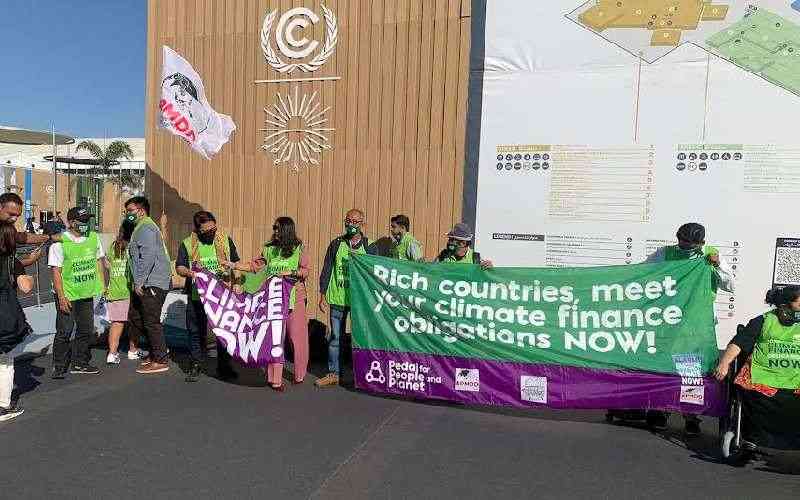 Over the years, the world has been misled by reports from the Organization for Economic Co-operation and Development (OECD), an intergovernmental organization made up of members from wealthy countries. These reports show that the money is mostly going to climate finance in developing countries, but most of that money is in the form of government grants or loans.
These OECD figures claim that Oxfam could be inflated. They say that in 2017-18 public climate finance was only 2 trillion to 3 trillion shillings ($19-22.5 billion), a third of what the OECD reported. According to Oxfam analysts, "only the benefits derived from lending at below market rates should be taken into account, not the total value of the loans".
Postponed Money Conversations
Earlier in the week, the discussion on loss and damage was put on the COP27 agenda. This has given a ray of hope to Africa and developing countries who have mobilized to bring the issue up for discussion because they are suffering from the effects of climate change and yet they contribute the least to carbon emissions.
Unfortunately, this joy was short-lived.
According to the Pan African Climate Justice Alliance, it is only until 2024 that there will be clarity regarding loss and damage, sources of funds, administrative mechanisms and procedural elements to access funds for loss and damage.
Another disappointment is that the issue of recognizing Africa as a continent with special needs and circumstances has been taken off the agenda.
Finance Day at COP27
As climate change activists made demands at COP27, UN experts presented a list of projects in poor countries that can be funded immediately to help reduce emissions and adapt to climate change. impact of global warming. On the list are 19 projects in Africa.
On the sidelines, African leaders at COP27 signed deals with the same wealthy nations they accuse of failing to deliver on their promises. This is happening as developed countries continue to exploit Africa's resources and increase investment in fossil fuels and solutions.
Mohamed Adow, founder and director of Power Shift Africa, says Europe wants to make Africa its "gas station", but has failed to provide adequate funding for renewables like solar.
He warned the European Union against using Africa to strike new deals to extract natural gas reserves to meet western energy demands. "This is a new kind of colonialism and gas deals involving Africa's resources cannot be done in Berlin," Adow said.
"Bad start" is what Adow describes for COP27. "The COP in Egypt must learn from the mistakes that plagued COP26 in Glasgow. For it to be a successful African COP, the priorities of developing countries must take center stage. We cannot claim to be tackling the climate crisis if we rush the road on issues such as loss and damage. It is not too late for this COP to be useful to Africa and the developing world where other conferences have failed them! he notes.